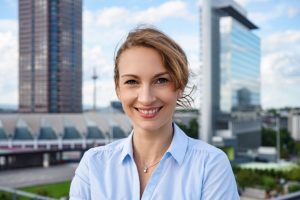 Stefanie Kemmerer, an Alumni of the Moving Cultures Masters programme, is the winner of 2022 GAPS (German Asocciation of Anglophone Postcolonial Studies) Graduate Award for her Masters thesis titled "Yogascapes: The Visual Politics of Transcultural Yoga as seen on Instagram" (supervised by Dr. Pavan Malreddy & Prof. Dr. Schulze-Engler). Both NELK and MCTE proudly celebrate her achievement.
After finishing her Masters, she took up a position at Brill Germany as a Junior Acquisitions Editor. There, she is responsible for evaluating and editing incoming manuscripts, prepare contracts with authors, and catalogues advertising upcoming novelties.
Stefanie has studied Culture and Economy with a focus on Spanish Studies at the Universities of Mannheim and Alcalá de Henares (Spain). In her B.A. thesis she investigated representations of violence and power in the work of Spanish author Julio Llamazares. Before she resumed her studies, she worked as an HR Business Partner and HR specialist. In 2018, she joined Goethe University as an M.A. student in the Moving Cultures – Transcultural Encounters programme and studied Comparative Literature at the University of Utrecht.
She can be reached by email: stefanie.kemmerer@gmx.de